Employee Reporting and
Absence Management Services
Let's take the headache out of tracking employee absences, forecasting production, and maintaining documentation.
Why do I Need an Employee Reporting Service?
Every organization has absent employees, but not every organization has a reporting process in place to manage those absences, and the effect they have on production. Employees should only need to make one phone call to update management, and managers should be able to see employee attendance at-a-glance, in real time.
It doesn't have to be that way.
Ambs Call Center allows our supervisors and management to be instantly aware of manning issues that we may have in production on any given day.
Stay on Top of Absence Management
with an Employee Reporting Service
Employee absenteeism, both planned and unscheduled, is a part of doing business—a certain amount of absences are inevitable. The costs of employee absenteeism are unavoidable as well – lost production and delayed timelines being the obvious culprits.
Our Employee Reporting and Absence Management Service makes both sides of the process easier. Employees have a single number to call, and have a standardized conversation with a live representative, 24/7/365.
Managers have a single source of truth for absence management in the form of a dashboard, and multiple options for real-time updates.
Looking for a bit more to dig into? Download our Comprehensive Guide to Managing Employee Absences to learn the most effective way to manage absences.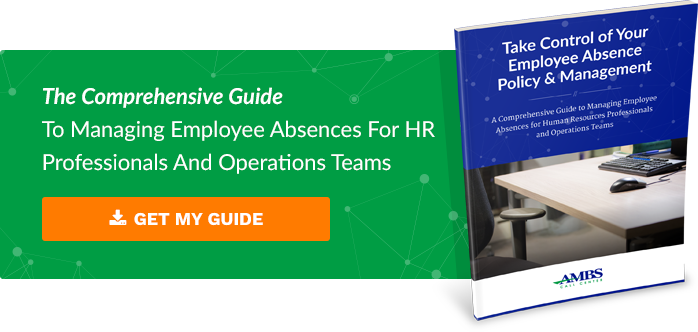 How an Employee Reporting Service Works
Step One: Employees call a dedicated telephone number to report that they will be late or absent for work. A call center agent at Ambs Call Center answers using your company name and gathers the specific information you need (employee name, shift, reason for absence, etc.). A unique confirmation number can even be assigned to each caller for tracking purposes.
Step Two: Our absence management system time- and date-stamps the call, inserts the telephone number the employee called from, and records the conversation.
Step Three: Daily reports via email, text, fax, and our secure HR web portal provide detailed tracking and for your records. Our agents can even make arrangements for a replacement, or immediately relay the call off information to a shift supervisor.
DOWNLOAD THE COMPREHENSIVE GUIDE
Invaluable Assistance in Employee Conflicts
If there is one thing that everyone knows in human resources, it is the importance of proper documentation.
When an employee calls in, they are conversationally asked a series of questions that are customized to your specifications. Based on their responses, follow up questions can be asked to gather additional information. A good example of when this would happen is if the employee is requesting FMLA leave. Our agents complete this via a conversation, not an interrogation, so it feels easy and natural for your employees.
In addition to the information gathered on the call, the audio of the conversation is also recorded, and accessible via our secure web portal. This eliminates any guesswork about the content of the call. It's great to have that type of backup should there be any future dispute.
Better Documentation = Better Compliance
"I tried to call and couldn't get through."
"I left a message with someone but don't remember who."
These excuses won't cut it if you have a clear employee reporting system in place. This benefits the employee by offering usefulness and protection. Rather than hoping someone gets their message in time, the sick employee notifying the call off service will be assured that their message will reach the right person and receive a confirmation number.
If a manager ever has questions or forgets that the employee called in sick, all the employee has to do is produce the number or search online.
Your Industry is Our Expertise
Ambs Call Center supports businesses of all types and sizes – from Fortune 500 companies to family-owned businesses like ours.
Find the Pricing Package That Works for Your Business
Maximize the Value of Your 24/7 Employee Reporting Service.